Another day, another Kaepernick story along with more and more people backing him. Spike Lee announced earlier today that a protest was to be held on August 23rd at NFL HQ. He later clarified that he didn't organize the event but he is in full support of the free agent QB.
First of all, Kaepernick is the best free agent QB in the world right now but teams that look to sign him are realizing the consequences might outweigh the pros. Football is a game of risk and reward but usually, when the phrase is talked about they are discussing injury probability, for Kaepernick through another dimension besides the injury risk needs to be factored in. He created a trend that swept the nation and many NFL fans found the gesture unacceptable.
Now with the background out of the way lets dig a little deeper into what is actually going down on August 23rd. I'm just confused what the rally is actually supporting. Are they fighting racial injustices or are they having a rally in an attempt to get Kaepernick a job?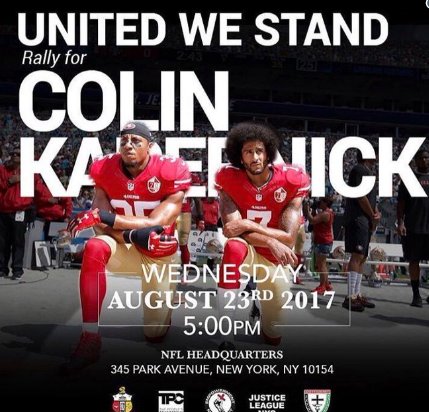 Now time for the crazy part. Go ahead and look at the poster again, notice anything wrong? Somehow whoever made this poster didn't seem to care to check the spelling of Kaepernick. Yikes! Someone needs to be fired because now I'm not sure who they are actually standing for Colin Kapernick the Joe Schmoe or Colin Kaepernick the football player. In the end, it's up to you who you are going to stand with.